Visit the Changing America RI website
View images from the opening of the online exhibition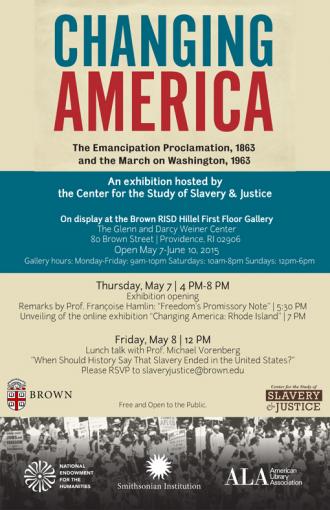 Thursday, May 7 | 4 PM-8 PM
Exhibition opening
Remarks by Prof. Françoise Hamlin: "Freedom's Promissory Note" | 5:30 PM
Unveiling of the online exhibition "Changing America: Rhode Island" | 7 PM
Brown RISD Hillel, Social Hall
The Glenn and Darcy Weiner Center
80 Brown Street | Providence, RI 02906 

Friday, May 8 | 12 PM
Lunch talk with Prof. Michael Vorenberg
"When Should History Say That Slavery Ended in the United States?"
Please RSVP to slaveryjustice@brown.edu
Brown RISD Hillel, Meeting Room
The Glenn and Darcy Weiner Center
80 Brown Street | Providence, RI 02906  
The exhibition will be on display at the Hillel Gallery from May 7- June 10.

Free and Open to the Public. RSVP on Facebook!
Brown RISD Hillel
The Glenn and Darcy Weiner Center
80 Brown Street | Providence, RI 02906
Monday-Friday: 9am-10pm Saturdays: 10am-8pm Sundays: 12pm-6pm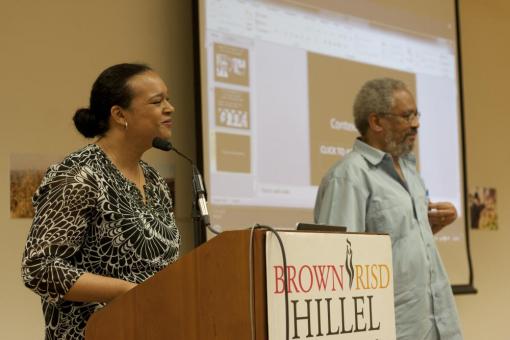 "Changing America: The Emancipation Proclamation, 1863 and the March on Washington, 1963" is presented by the Smithsonian's National Museum of African American History and Culture and the National Museum of American History in collaboration with the American Library Association Public Programs Office. The exhibition is made possible by the National Endowment for the Humanities (NEH) and is part of NEH's Bridging Cultures initiative, "Created Equal: America's Civil Rights Struggle," which brings four outstanding films on the civil rights movement to communities across the United States (see http://createdequal.neh.gov). "Created Equal" encourages communities across the country to revisit and reflect on the long history of the struggle for civil rights in America.