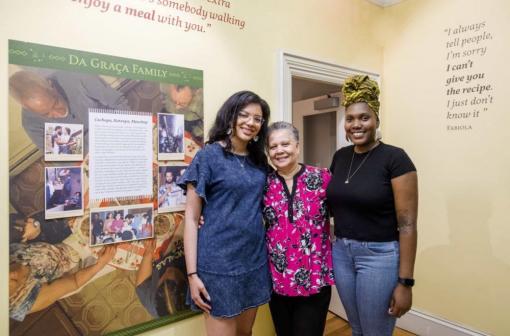 The opening reception of Memory Dishes was on:
Friday May 24th, 2019 from 4:00-6:00 PM
94 Waterman St, Providence, RI
Memory Dishes highlights the cooking practices of six Rhode Island families: Alcantara, Aubourg, Malabre, da Graça, Jones, and Powell. They follow a long tradition of women of African descent who reimagined culinary practices in the New World, blending traditional West and Central African recipes with indigenous and European staples.
Today mothers, grandmothers, and aunts continue this tradition, passing recipes mixed with family histories to daughters, granddaughters and nieces in kitchens throughout the Americas. The smells of the cachupa simmering on the stove, the sound of the concón scraped from the bottom of the pot, the rhythm of the pilon, and the heat of the scotch bonnet pepper, are central to African diasporic life. Everyday food and cooking become complex forms of culinary art and rituals of remembrance and independence. This exhibition pays homage to female cooks, both seen and unseen, and the ways their labor connects a vast and diverse diasporic peoples across generations.
Visit the digital exhibition of Memory Dishes
View the catalog for the Memory Dishes exhibition