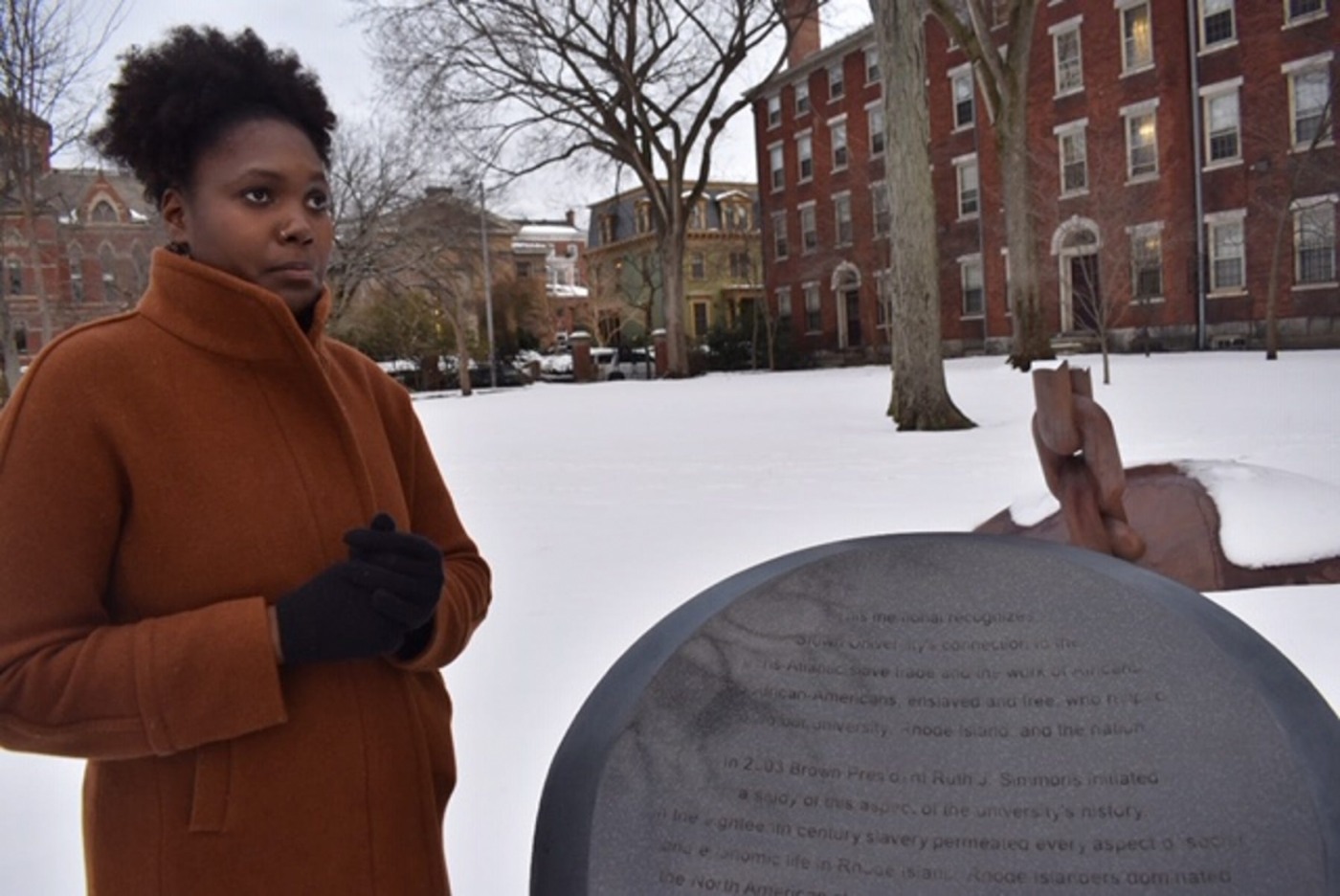 But the model for these programs is Brown University, which issued a groundbreaking report in 2006 about its founders' connection to slavery and created a center to research slavery and injustice. 
"We have an obligation to tell the truth about our history because we're a university," said Ruth Simmons, the former president of Brown. 
Other universities, she said, can do the same. "We're best at doing the research and speaking the truth of what transpired … I think the truth is always worth it.''
Slavery and Brown University
Maiyah Gamble-Rivers trudged through the snow one recent afternoon to get to a highlight on the Slavery & Legacy walking tour at Brown University. 
The memorial – a half sphere and a broken chain rising to the sky – is only steps from the oldest building on campus. Free and enslaved blacks helped build University Hall.
Inside is an exhibit entitled "Hidden in Plain Sight: American Slavery and the University,'' which tells the story of the school founders' role in trafficking Africans.
The tour also includes a stop by a quad named after Simmons, the university's first black president. There's another stop in front of Page-Robinson hall, named for Inman Edward Page and Ethel Tremaine Robinson, the first black man and woman to graduate from Brown.
Gamble-Rivers created the tour. A native of Providence, she hadn't imagined working at the university. She never even visited as a high school student. But now the 30-year-old program manager at the Center for the Study of Slavery & Justice said she's proud to share the history of blacks on campus and in Rhode Island – even the horrors.
"It is not a choice,'' she said. "It is a responsibility and it is a duty." 
Brown was one of the first universities to exhaustively examine its connection to slavery. The tour, the center, the memorial and even Gamble-Rivers' job came about because of the 2006 report about the history of slavery there.